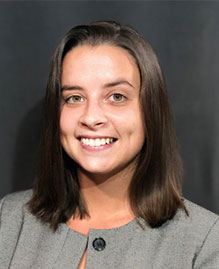 Associate Management Consultant
Crystal Smith is an Associate Management Consultant at E. Rogers Associates. She began working at E. Rogers Associates in 2018 and has worked with a variety of clients on a diverse set of leadership and organizational initiatives. She has experience summarizing and analyzing assessment data to create developmental plans for senior executives. Additionally, she has researched strategies to improve candidate experience and 360-degree feedback assessments. Crystal has helped design and develop customized initiatives in areas such as leadership development, high potential identification and succession planning.
She has experience administering and analyzing data of tools and assessments such as 360 Degree Feedback, Hogan Personality Inventory (HPI), Hogan Development Survey (HDS), Motives, Values, Preferences Inventory (MVPI), and TeamTelligent's Knowledge, Skills and Attributes (KSA) Suite of Tools. Recently, she was certified in assessing and delivering feedback on TeamTelligent's KSA 360 tool and The Hogan Leadership Forecast Series.
At E. Rogers Associates, Crystal is researching how leaders adjusted the roles and practices used when faced with COVID-19. Recently, she contributed to a commentary anticipating publication on the role of leader-member exchange in successful aging at work. In 2020, she graduated from the MA program in the Industrial/Organizational Psychology Program at Hofstra University and is continuing her studies in their PhD program in Applied Organizational Psychology.