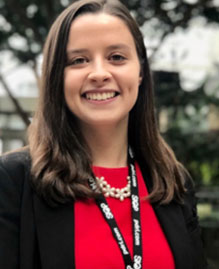 Associate Management Consultant
Crystal Smith has worked at E. Rogers Associates since 2019 and has contributed to the design and development of customized Leadership and Organizational Development initiatives. She has extensive experience summarizing and analyzing assessment data to create developmental plans for senior executives and leadership teams. Further, she has applied her knowledge on candidate experience, best practices of 360-degree feedback, high potential identification, and collaboration between dysfunctional teams while working with a variety of clients.
She is certified in analyzing and delivering feedback on TalentTelligent's KSA 360 tool and The Hogan Leadership Forecast Series. Crystal also has experience administering and analyzing data from other 360 Degree Feedback tools and TalentTelligent's KSA Suite of Tools, including their high potential identification and high performing team assessments.
At E. Rogers Associates, Crystal led research to understand how leaders reacted to COVID-19 and identified practices that were unique to this specific crisis, as well as potential leadership blind spots.  She also contributed to a published commentary on the role of leader-member exchange in successful aging at work. Most recently, she conducted a survey study examining predictors of peer coaching used in the workplace.
Crystal received her Master's degree in Industrial/Organizational Psychology from Hofstra University in 2020. Currently, she is in her second year of her doctoral degree at Hofstra and serves as Treasurer of the program's student organization. Crystal's current research interests include coaching, burnout, the dark side of leadership, and engagement in the workplace.