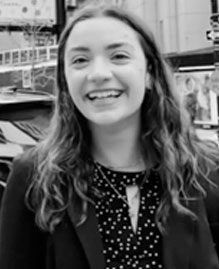 Associate Management Consultant
Haley Gravalis is an Associate Management Consultant at E. Rogers Associates. In May 2023, she graduated with distinction from Hofstra University's Industrial/Organizational Psychology Master of Arts program. Prior to attending graduate school, Haley received a B.S. in Integrative Neuroscience from SUNY Binghamton.
Since joining E. Rogers in May 2022, Haley has contributed to the design and development of custom team initiatives and leadership development projects. She has extensive experience administering and analyzing data from a broad range of assessments, such as Talent Telligent's KSA Suite, Hogan Leadership Suite (HPI, HDS, MVPI), Myers-Briggs Type Indicator (MBTI), and various multi-rater feedback tools. In support of the firm's executive coaching engagements, Haley has created custom development plans and resources for executives. Most recently, Haley designed a leadership development initiative for a team of senior leaders that included the creation and implementation of a custom, research-based 360-degree feedback tool.
At Hofstra University, Haley was heavily involved in the I/O program and campus community. She participated in Diversity, Equity, and Inclusion (DEI) research as an assistant to Dr. Nicholas Salter, where she worked on a study that took a qualitative approach to understanding LGBTQ+ individuals' experiences in leadership roles. In addition, she was treasurer of Hofstra's Industrial/Organizational Psychology Student Association (IOPSA) for the 2022-2023 academic year. Haley received the MA I/O Outstanding Master's Student Award for academic excellence and organizational citizenship for the class of 2023.
Prior to joining the team at E. Rogers, Haley spent time working at CCL Clinical Systems, a clinical label production company that provides researchers in the pharmaceutical industry with materials for their national and global drug trials. At CCL, Haley specialized in quality assurance. From production to shipment, she guaranteed the accuracy, integrity, and informational security of all projects under her review.
Haley is a member of SIOP (The Society for Industrial and Organizational Psychology), METRO (New York Metropolitan Association of Applied Psychology), and Phi Beta Kappa National Honor Society. Her current research interests include leadership development, training, and succession planning.