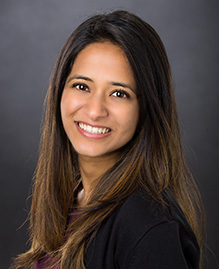 Management Consultant
Erica Fernandes is an Associate Management Consultant at E. Rogers Associates. She is current pursuing a PhD in Applied Organizational Psychology at Hofstra University.
Erica Fernandes began working at E. Rogers Associates in June 2017 and has assisted on several projects in the areas of Talent Acquisition, Leadership and Team Development, Competency Modeling as well as Career path Modeling. As part of these projects, she has helped support interviews with key leaders and organizational stakeholder, helped analyze interview, focus group and other organizational data to develop recommendations for further steps including, helping in the design of Leadership training offsites, proposing a talent acquisition strategy and helping facilitate the roll-out, as well as assisting in the development of an integrated career path to include an integration of jobs cross-functionally, through an analysis of job descriptions, compensation levels, job titles and focus group data collected at multiple levels within the organization.
She has experience administering and analyzing data from tools and assessments such as the Korn Ferry Assessment for Leadership Potential, Korn Ferry Leadership Architect, 360 feedback, viaEdge assessment of learning agility, Insights, DiSC, Myers–Briggs Type Indicator, Thomas-Kilmann Inventory. She has conducted group analysis of assessments, assisted in creation of individual and group development plans as well as analyzed engagement and talent survey data to understand High Potential trends and insights, to develop recommendations for leveraging HiPo talent.
She got her Master's degree in Industrial/Organizational Psychology in 2018 from Hofstra University, where she was also a Research Assistant to the Director of the PhD program. Prior to that she worked a summer internship at a Human Resource Consulting firm in Dubai. She graduated with a Bachelor's degree from Symbiosis International University in India with a major in Psychology and minors in Business and Philosophy.
She served as the president of the PhD's in Applied Organizational Psychology (PAOP) student organization at Hofstra University. Her research interests include the dark side of leadership, leadership development and high potential identification, psychometrics and decision making.