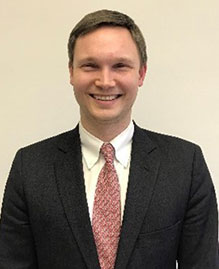 Senior Management Consultant
Grey is an accomplished organization and business transformation professional with over 20 years' experience in politics, government, consulting, non-profit, startup, and corporate settings, where he has consistently worked with the highest levels of senior leadership to lead and execute organizational priorities.  He brings a unique background that combines strategic business and human resource roles to ensure organizational alignment with corporate strategy, and to deliver success in all forms of transformation efforts.
Grey works with executives and their teams to transform business, lead change, improve performance, and develop the next generation of leaders.  Through executive and team coaching, organizational design, leadership capability building, and process improvement consulting, he helps leaders harness the talent and engagement of the workforce and build resilient teams and organizations.  He has extensive experience in large-scale change management initiatives and organizational effectiveness.
Grey began his career in the White House Office of Political Affairs where he partnered with local and state political organizations on White House initiatives.  He then worked for the Director of the U.S. Peace Corps, leading teams on 35 country visits for the Director and driving the Agency's global expansion objectives.
Grey returned to the White House to serve in the Office of the Vice President in increasingly senior roles within the Staff Secretary's office.  In these roles, he led teams from across the White House and Federal Agencies to provide rigorous policy analysis to support the Vice President's decision-making across national security, homeland security, domestic policy, and political and legislative duties.
Following his work in the Administration, Grey joined Booz Allen Hamilton within their Intelligence Community practice, where he advised senior government leadership on internal external communications and change management strategies and developed a crisis communications team to partner with the broader Intelligence Community.
He has also led organizational business transformation efforts to transform the business model of the 40-year-old non-profit, Building for the Arts NY, to accelerate growth and revenue.
At Mastercard, Grey led strategy and execution of the Chief Product Officer's key priorities across Mastercard and in the Products and Innovation organization and ensured cross-functional leadership alignment and buy in with the CEO's priorities.
Grey received an MBA from Columbia Business School and a BA in History from Stanford University.  He is a certified Project Management Professional (PMP), TalentTelligent Associate, and is Hogan certified.