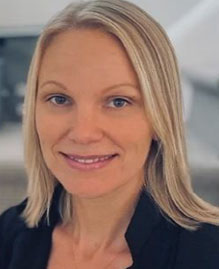 Management Consultant
Jessica is a Management Consultant at E. Rogers Associates with 15 years of experience as a Human Resources and Organizational Development professional. She has a proven track record of delivering success for a variety of organizations across retail, media, consumer services and consumer goods industries. The majority of her career was spent at PepsiCo where she worked for 10 years in various Talent Management, Organization Development, and HR Business Partner roles to drive talent sustainability and organization development across all levels of the global organization (CoE, Sector, and Function).
Throughout her tenure at PepsiCo, Jessica implemented performance management processes across sectors and functions, and collaborated globally to drive continual process improvement and harmonize the platform across the organization. She has worked with senior executives and HRBPs to create both sector and function succession plans, in addition to customized executive development plans to build bench strength and leadership pipeline. Jessica has also led functional succession planning processes and delivered excellence in HR fundamentals as an HR business partner.
As part of the Enterprise Organization Development and Engagement team, Jessica managed the execution of the Organizational Health/Engagement Survey across the globe and provided data driven insights to improve engagement, drive business growth, and enhance organizational culture. Jessica has designed, implemented, and aligned competency, critical experience, and career models across global functions, in addition to leading change management processes for new model rollouts. Jessica had also provided change management support through organizational restructuring and was granted an HR Excellence award for her work on PepsiCo's Global Operating Model transformation.
Throughout her various roles, Jessica has managed, facilitated, and coached executives through an assortment of leadership programs and is certified in multiple assessments including Hogan personality inventory, 360-degree feedback, DISC team styles, and MBTI personality inventory.
Her academic credentials include a BA from the University of Michigan and an MA in Industrial / Organizational Psychology from New York University. Jessica resides in Briarcliff Manor, NY with her husband, 2 sons, and dog.