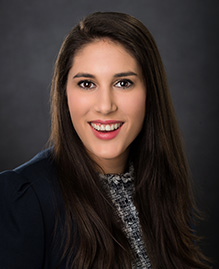 Management Consultant
Nicole Rogers is a Management Consultant at E. Rogers Associates, Inc. She is in her second-year in the PhD program in Applied Organizational Psychology Program at Hofstra University.
Nicole has worked at E. Rogers Associates as a Management Consultant where she has summarized human resource and business articles on competencies, leadership development, high potential talent, generational trends, and organizational initiatives for client projects and the company blog. Additionally, she has researched strategies on change management for startups/high growth organization. Nicole has developed presentations on competency models and their link to talent as well as researched company backgrounds and developed presentations on their history, mission, values and culture. She has used talent analytics on individual and group leadership assessment data to provide recommendations for talent planning, organizational and individual development initiatives and processes. Working with clients, Nicole has designed and developed customized initiatives such as leadership development, talent acquisition and development, team building and change management.
She has experience administering and analyzing data from tools and assessments such as the Korn Ferry Assessment of Leadership Potential, Korn Ferry Leadership Architect, 360 Feedback, viaEdge Assessment of Learning Agility, Myers-Briggs Type Indicator, and TeamTelligent Knowledge, Skills and Atrributes Suite of Tools. She has conducted group analysis of assessments, assisted in the creation of individual and group developmental plans as well as analyzed engagement and talent survey data to develop recommendations for leveraging talent.
Prior to working at E. Rogers Associates, Nicole worked as a Human Resources Intern for Loews Corporation. At this organization, she directly reported to the Human Resources Business Partner. Nicole researched, developed and implemented a new recruitment strategy focused on attracting the best talent by modifying and leveraging job descriptions. Additionally, Nicole assessed competitive practices regarding Flexible Work Arrangements and their positive impact on productivity, and she presented the results to senior management.
Prior to working at Loews Corporation, Nicole worked as a Talent Development Summer Intern at Thomson Reuters. In that role, she conducted research on current trends in performance management communication and generational differences. She assessed productivity for various Human Resources programs such as goal alignment. She participated and advised on meeting future talent and development goals and programs as well as worked with their excel database.
Nicole has a MA in Social and Organizational Psychology from Columbia University and a BA in psychology from the University of Maryland, College Park.